Bring the world of Westeros to your table
Very few intellectual properties have had as much impact on contemporary pop culture as George R.R. Martin's best-selling book series 'Game of Thrones – A Song of Ice and Fire.'
Most of us have at least heard the names of House Lannister or House Stark. Now that HBO is airing the final season of the beloved franchise there is almost no escaping it.
You might think political intrigue, plotting and power play is the perfect setting for an interesting board game – and you would be right. There are several board-game titles that will allow you to re-live your favourite aspects of the novels or the Television show.
3-6 players, Ages 14 and up, playtime 120-240 minutes.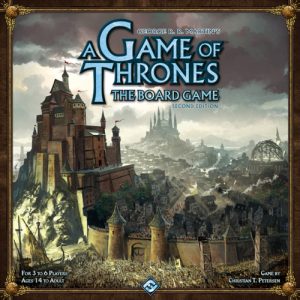 (Click on image for more info)
In fact, long before its adaptation into a television showin 2011, Game of Thrones was released as a board game. The board-game publisherFantasy Flight Games released the first edition of a Game of Thrones strategy game in 2003, followed by a second edition in 2011. In Game of Thrones – The Board Game, each player takes the role of one of the great houses of Westeros, vying for control of the Seven Kingdoms. Players maneuver their armies to secure support in the various regions with the goal of capturing enough influence to claim the Iron Throne. Making alliances and deals with other players is a big part of the game play. For a fan of the franchise, this game might be the most elaborate way to experience the books. But be aware, it does include a more involved set of rules and might be overwhelming for new gamers. Gameplay can last from 2-4 hours, so make sure to bring a snack to game night.
GAME OF THRONES – THE CARD GAME
2-4 players, Ages 14 and up, playtime 60 minutes.

(Click on image for more info)
Because of the success of their first board game adaptation, Fantasy Flight followed it up with the release of Game of Thrones – The Card Game in 2008, which is also now in its second edition. As the name suggests, the game is entirely card driven and uses the 'Living Card Game (LCG) system,' meaning you can buy new expansion packs for it, which add new elements to the game, while knowing exactly which cards are in each expansion. Like the board game, this game is also a little more complex and targets a more experienced gamer market.
CATAN – BROTHERHOOD OF THE WATCH
3-4 players, Ages 14 and up, playtime 60-75 minutes.

(Click image for more info)
The influence of the families of Westeros did not end there. One of the more notable publications last year was a re-theming of one of the most successful board games in recent history – Catan. 'Catan – Brotherhood of The Watch' uses the mechanics of the popular Catan game and combines it with newly added elements of the books. Players take the role of a member of the Brothers of the Night's Watch, trying to gather resources in order to build roads, settlements and keeps. It boasts a beautiful board that, dramatically, even features the wall.
If you like Catan and enjoy Game of Thrones, you will love this.
A GAME OF THRONES: HAND OF THE KING
2-4 players, Ages 14 and up, playtime 15-30 minutes.
Not every Game of Thrones game has to be complex. A Game of Thrones: Hand of The King is a rather short and simple tile-laying game. The king of Westeros has declared that he will choose a new hand. But which house will be chosen? Your job is to move Varys, the master of whisperers, to help you to outwit and backstab your opponents.  The game is rather small and plays very quickly. The art design is charming, and the rules are easy enough for novice players.
RISK: GAME OF THRONES
2-7 Players, Ages 18 and up, playtime 120-240 minutes.
Last but not least we have several classic games that were reissued with the Game of Thrones theme. Most notable Risk: Game of Thrones. Kind of makes sense, doesn't it? Like the standard Risk game, players try to take control of Westeros by battling the other houses. The game comes with 2 boards (one for 2 players and one for 3-5 players) and seven house armies. It even has three ways of playing it: Skirmish, Dominion or World at War. A really nice adaptation of a classic game. However, just like the original Risk game you might find it taking a bit of time to finish. Officially it will last between 2 and 4 hours.
COME PLAY
If you love Game of Thrones, these are just a few options you can use to immerse yourself in R.R. Martin's epic universe. What better way to bring fiction to life?
So, let's go and play a good game!