Last week I had the pleasure to spend a week at an all-inclusive resort in Cuba. There were a total of 10 of us. All of them family. Three generations, including nice and nephews, brother and sister in-laws as well as their mother.
Of course I brought 2 suitcases full of games to make sure we were covered on that front.
Many of us are taking a week or two away from our bitter winters and travel south to enjoy some warm weather in a resort. What better way to spend some quality time together than playing some games? Either during the day when one would like a break from lying at the pool or in the evening after supper when people get together to unwind and share some drinks.
But what games should one bring? What should I plan for to make sure that the board gaming part of your vacation will be a success?
Here are some of my thoughts and experiences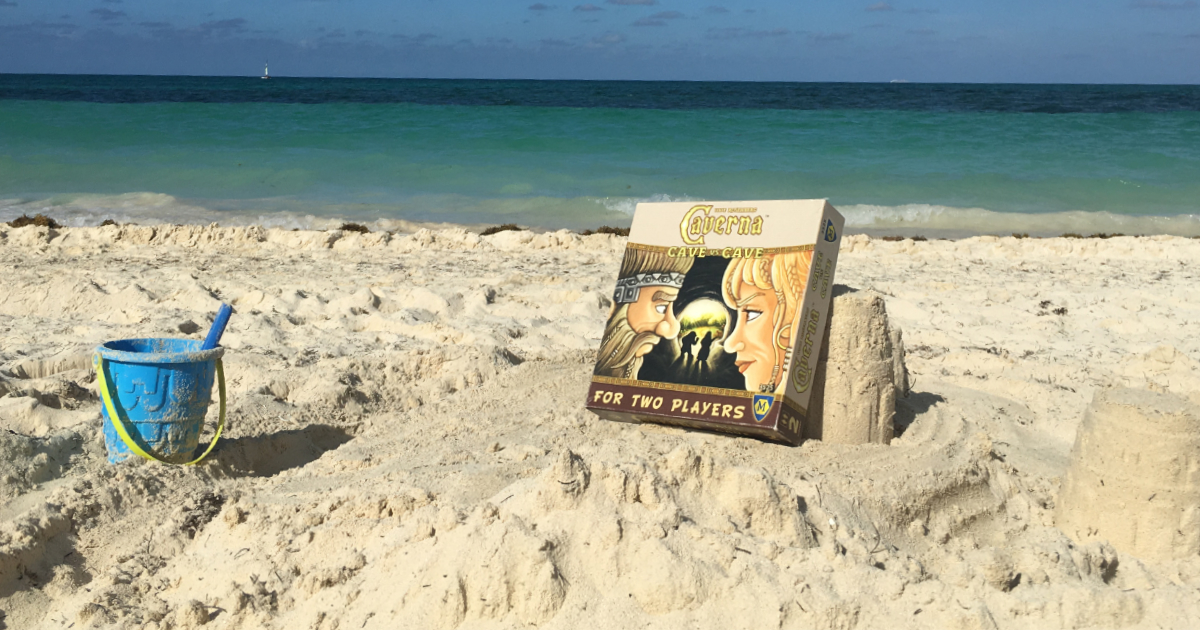 Bring different type of games that fit different size groups and moods.
Make sure you have variety in your selection. Sometimes you might find it fun to play a game with just one other person, or with a small group of 3 or 4 payers. Other times you might want a game that can include everyone (games for 6-10 people).
There should be some party games for time when you just want something light to do, but also some light strategy games if you feel like playing something that has a bit more depth. You might even consider taking a solitaire game for those times when you feel like being by yourself.
Bring games that can appeal any level of experience.
Not everyone is enjoying games that take a lot of rules. Others might find that some games are 'too light' and hope for something a little more complex. When you select your games, make sure you have something for everyone. Some games for children (if you have some in your group), some for teenagers, strategy lovers as well as party games that take very little explaining.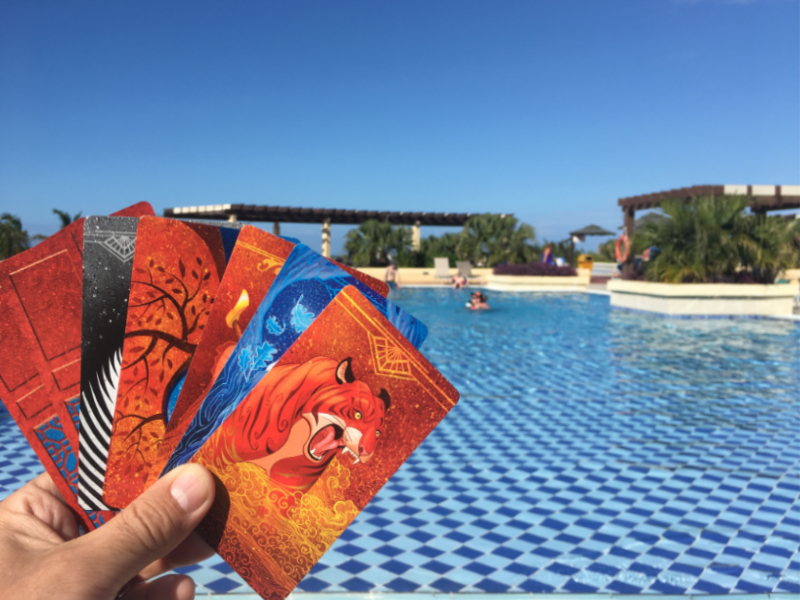 Use your luggage space wisely.
Not every game has to be big in order to be good. Granted there are a lot of great games that require a larger box (Ticket to Ride, for example). There are tons of great games for a variety of player counts that come in a small box. Take Anomia, for example. The size of a tiny box, yet it can entertain up to 6 players for a long time. If you are able to find smaller games to take with you, you'll be a able to take more…
Too many pieces?
Try not to bring games that have too many components. Many of the tables you'll be playing on will be rather small. Find something that can be easily set up and cleaned up with out taking too much table space. This will make it easier to get a game going without spending too much time trying to find a porpper place to set it up.
Ah, the little baggies.
Bring a few extra small zip lock bags and elastics. You will thank yourself to be able to put things away quikly if you are able to put pieces in samll bags or organize cards with elastics. Most dollar stores sell small see-through bags in their crafts section.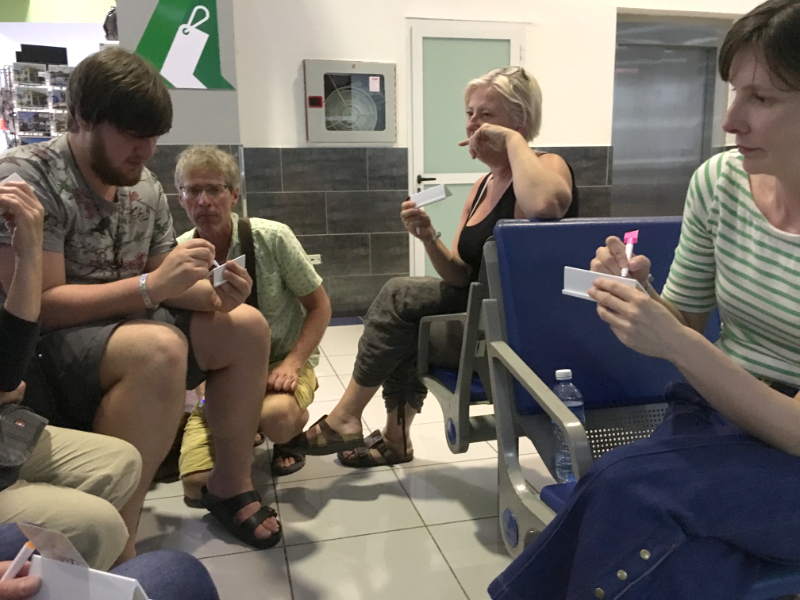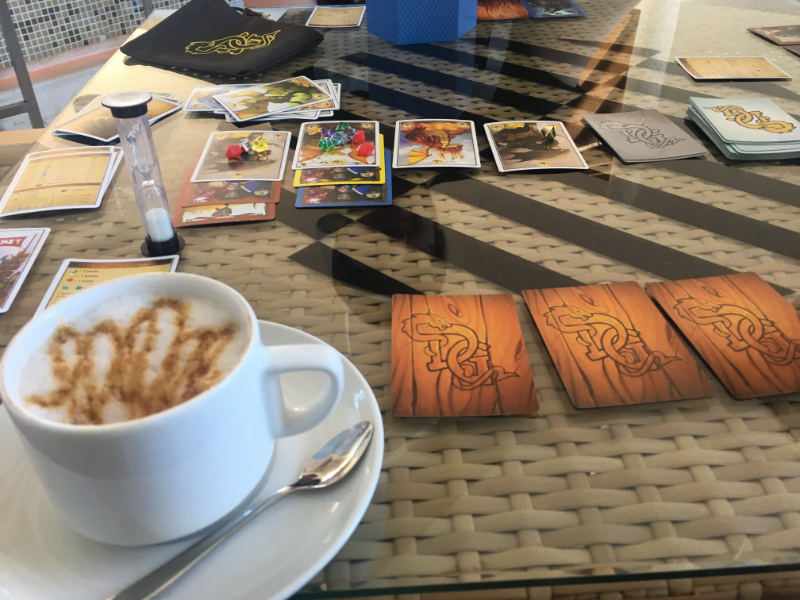 Olaf's Top 10 Vacation Games
So let's talk suggestions. Here are my favourite titles that will get you started.
JUST ONE
This game is so much fun and yet has so little rules. Try to give one player at the table a one-word clue to help them guess a word. But be careful if 2 or more players give the same clue it gets cancelled out. Small(ish) box that can entertain between 3-7 players.
THE LADY AND THE TIGER
Like a swiss-army-knife of board games. This very small box comes with a deck of beautifully designed cards and the rules for 6 different ways to play it. Anything from 1 to 6 players.
I have played a few versions and I liked them all.
ANOMIA
Don't let that small box fool you. Anomia is a fast pace reaction card game for 3 to 6 players. Super easy to explain and good for all ages (except maybe very little kids). We have had instant fun with it every time.
FRIDAY
The theme fits perfectly for a vacation. In this solo game you try to help Robinson Crusoe to survive ont he island and eventually defeat the pirates. Based n a deckbuilder mechanic, it require a little bit of rules but rewards the investment.
FORBIDDEN ISLAND
If you like co-operative games, this is a sure winner. Great for novices and experienced players alike. Also good for chidren. Small(ish) box that can entertain up to 4 adventurers. Try to leave the island before it sinks. If that doesn't sound like a vaction…
AZUL
Just a great overall game. 2-4 players. A little bit of strategy and more for those times when you feel like playing something a bit more substantial. Lay tiles to gather points. Last year's "Spiel Des Jahres" winner. Slighly bigger box but worth the extra weight.
BILLIONAIRE BANSHEE
Definately in the light party game catergory. Good for bigger groups. Great for poeple that know each other a little bit. Draw 2 cards. One positive, one negative aspect of a potential date. Everyone has to vote if you would date that person or not. Lots of laughs!
HANABI
Tiny but potent. This co-operative card game for up to 5 players fits in your pocket but provides hours of fun. Not great for completely nw players but relatively easy to learn. Perfect for a trip.
QWIRKLE
Can't go wrong with that one. Easy to learn. Great wooden component pieces. 2-4 players any age. Medium size box. A mixture of Scrabble and dominoes. Looks good on any beach!