TEAM BUILDING AND COMPANY PARTIES
The Perfect Way To Connect With Your Colleagues And Strengthen Your Team
Board games make the perfect team building activity. We offer a fun and relaxed environment to host your next company outing.
Why not try a co-operative game to encourage people to work together?
Or maybe a hidden-role game to encourage conversation?
What about a party game to enjoy some laughs and togetherness?
No matter your intention, we are guaranteed to have a game to match it. Our library has more than 1500 games to choose from.
Across The Board is licensed.
We offer a-la-carte menu options as well a buffet packages.
A 48 hour notice is required for orders and cancellations. If needed with shorter notice contact restaurant for availability. Notice time needed subject to change at the restaurant's discretion.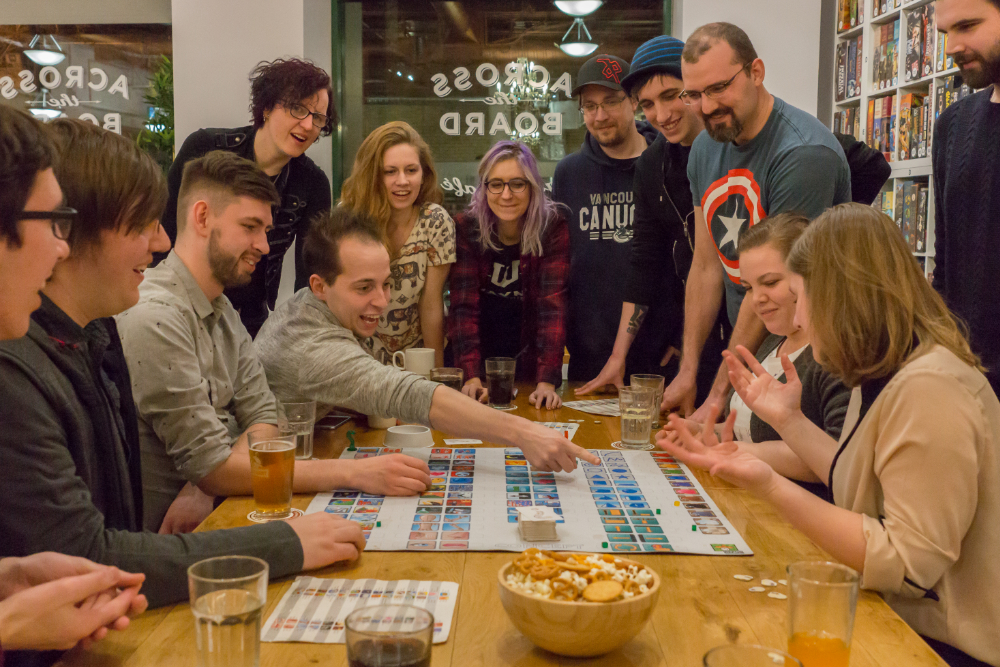 Minimum 10 guests
• Gaming Covers
• Pizzas (see menu for options and details)
• House Salad w/2 dressings (Choice of Ranch, Thousand Island or Balsamic Vinaigrette)
• Breadsticks
Minimum of 6 guests
• Gaming Covers
• 3 Cheese Spinach & Artichoke Dips
• Quesadillas (Your choice of BBQ Pork, Buffalo Chicken, Tofu)
• Salad Rolls
•Hummus & Vegetable Platter
 Minimum of 10 guests
• Gaming Covers
• Banh Mi Sandwiches/Club Sandwiches/Chicken Caesar Wraps
• Hummus and Vegetable Wraps
• Potato Wedges
• House Salad w/ 2 dressings
Do you prefer to order from our regular menu for your event?
No problem. Take a look at our menu and choose whatever you like.
Pre-orders are recommended to make sure there is not too much waiting time.
Gaming fee is $7/Person