TEAM BUILDING AND COMPANY PARTIES
The Perfect Way To Connect With Your Colleagues And Strengthen Your Team
Board games make the perfect team building activity. We offer a fun and relaxed environment to host your next company outing.
Why not try a co-operative game to encourage people to work together?
Or maybe a hidden-role game to encourage conversation?
What about a party game to enjoy some laughs and togetherness?
No matter your intention, we are guaranteed to have a game to match it. Our library has more than 1500 games to choose from.
Across The Board is licensed.
We offer a-la-carte menu options as well a buffet packages.
48 Hours notice required for orders and cancellations. If needed with shorter notice contact restaurant for availability. Notice time needed subject to change at restaurant's discretion.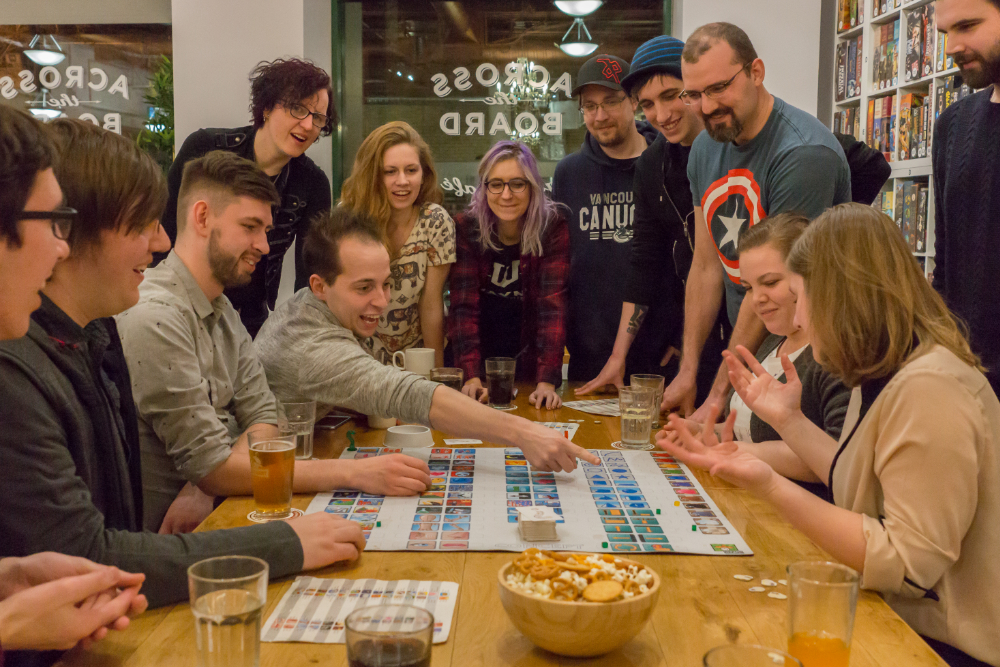 Minimum 10 guests
• Gaming Covers
• Pizzas (see menu for options and details)
• House Salad w/2 dressings (Choice of Ranch, Thousand Island or Balsamic Vinaigrette)
• Breadsticks
Minimum of 6 guests
• Gaming Covers
• 3 Cheese Spinach & Artichoke Dips
• Quesadillas (Your choice of BBQ Pork, Buffalo Chicken, Tofu)
• Salad Rolls
•Hummus & Vegetable Platter
Minimum of 10 guests
• Gaming Covers
• Bahn Mis/Club Sandwiches/Chicken Caesar Wraps
• Hummus and Vegetable Wraps
• Potato Wedges
• House Salad w/2 dressings
 Do you prefer to simply order from our regular menu for your event?
No problem. Take a look at our menu and choose whatever you like.
Pre-orders are recommened to make sure there is not too much waiting time.
Gaming fee is $6/Person